Welcome
This is the website for my work as a creative writer for children and teens. Here you will find information on The Stupendous Dodgeball Fiasco and my new book, The Clueless Girl's Guide to Being a Genius. (My adult literary fiction and poetry has also been published by The Antietam Review, The Potomac Review, The Louisiana Review and many other journals - but that's another story!).
Children's Literature
When destiny crosses the paths of two polar opposite thirteen-year-old girls, both learn the deeper meaning of friendship. Aphrodite Wigglesmith believes a toilet changed her life forever, because it was a clogged toilet (being repaired by her plumber mother) which led Principal DeGuy to discover and later hire the Harvard graduate as a math teacher. Mindy Loft, baton twirling beauty, finds herself in a remedial math class being taught by Professor Aphrodite Wigglesmith. Chapter by chapter first person narration is shared by Aphrodite and Mindy, giving readers the perspective of each clueless character. Aphrodite's unconventional teaching methods (gluing students in their desks and taking the class to the pool hall for object lessons on angles and percentages) transforms the class of math duds. When Aphrodite's IQ cannot cure her drab wardrobe and social skills, Mindy comes to the rescue to prepare Professor Wigglesmith for the annual Spring Fling Dance. The misadventures at Carnegie Middle School will captivate and entertain young readers. Out of a preposterous setting comes a story of sacrifice and acceptance. Reviewer: Krisan Murphy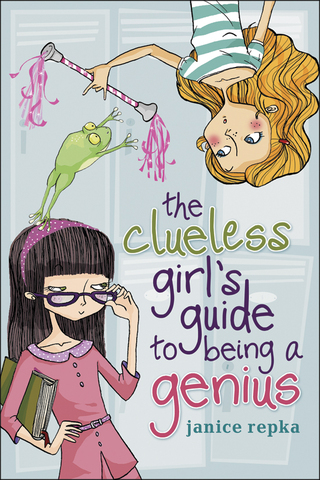 Here it is: the first review of The Clueless Girl's Guide to being a Genius - hot off the press from Kirkus Review.

THE CLUELESS GIRL'S GUIDE TO BEING A GENIUS (reviewed on July 15, 2011)

A fantastical and funny story features the unlikeliest of friends.

Thirteen-year-old math genius Aphrodite Wigglebottom believes that anyone can be a math whiz. She sets out to prove her theory by teaching an eighth-grade remedial math class. The students initially reject their teenage teacher, but Aphrodite slowly wins them over, both by knowing her stuff and by her willingness to use whatever means necessary to get her students' attention, including literally gluing them into their desks. She even convinces them to compete in a math contest against the smartest kids in school. Aphrodite might know an awful lot of math, but she soon discovers that there is a lot about being 13 that she doesn't know. Enter Mindy Loft, terrible at math but an expert at makeovers, baton twirling and, well, at being 13. The two girls narrate in alternating chapters, telling a lighthearted, funny and often bizarre saga of middle-school mayhem. Underneath the drama, though, is a gentle, uplifting message: Even though we can't explain how or why some friendships form, the best of them help us to understand ourselves and change us in fundamental ways.

Equal parts silly and endearing, this one will appeal to fans of Wendy Mass and Megan McDonald. (Fiction. 8-12)
Pub Date: Aug. 18th, 2011
ISBN: 978-0-525-42333-1
Page count: 224pp
Publisher: Dutton

I have a law degree from the University of Pennsylvania, as well as a Master's degree in English and a Master of Fine Art's degree in Creative Writing from McNeese State University. Throughout my varied career, I have been a teacher, a writer, and a lawyer, although my path has occasionally shifted more toward one than the other at times. What has never varied is my passion for fairness and justice, and for sharing that passion, whether it's by putting pen to paper or by engaging students in a classroom. If there's one thing I've learned through it all, it's that a good sense of humor makes life more enjoyable. It is with this philosophy that I present my creative work for children on this website.
The Stupendous Dodgeball Fiasco is a 2008 Nebraska Golden Sower Award Honor Book and a Junior Library Guild Selection.
It also has been nominated for four additional state reading awards:
The Sunshine State Young Reader Award;
The Young Hoosier Book Award;
The Great Stone Face Award; and
The Keystone to Reading Book Award.

The Clueless Girl's Guide to being a Genius was released by Dutton Children's Books (a division of Penguin) on August 18, 2011.

The Clueless Girl's Guide to being a Genius is a Scholastic Book Club pick, and its film rights have been optioned.